Christopher Lowe var tidigare teknologianalytiker på Morgan Stanley och skriver dagligen ett TMT (tecknology, media, telecom)- morgonbrev.
Good Morning,
Please note today's GLOBAL TMT BRIEFS…
USA:
AMAZON
AMAZON: LOCK / LOAD / FIRE ONE !!! AS THEY START TO ROLL OUT WHOLEFOODS AS THEIR NUCLEAR BOMB TO ATTACK THE GROCERY MARKETPLACE…as they debut
the in STORE loyalty program that offers special (UPTO 10%) discounts to Prime customers, including 10 percent off hundreds of sale items and rotating weekly specials.
#
BETA TESTING IN FLORIDA STORES
– where if successful and sees the volume spike needed – this will be rolled out worldwide. YIPPEE
#
FLORIDA
also has a free two-hour delivery from Whole Foods stores for members of Prime.
INNOVATION BENEFITTING THE CUSTOMER..CAN'T WAIT FOR THIS TO HAPPEN @ WHOLEFOODS RICHMOND
VC IN FOCUS / WOMEN IN TECH: GREYLOCK'S LATEST PARTNER
GREYLOCK: ANNOUNCE SARAH GUO AS THEIR SHINING FEMALE SUPERSTAR OF THE FUTURE. NOW, WHILST I RESPECT MS GUO & HER ACHIEVEMENT, "BIG CONGRATS"… ITS BECOMING A BIT WEIRD HOW THESE POSITIONS ARE BEING POSTULATED BY DIFFERENT VC's .. ALMOST TO THE POINT THAT THEY TRYING TO EMPHASISE THEY ARE GDPR COMPLIANT.. THEY ARE FEMALES IN POWER COMPLIANT (TICK TICK TICK)
# Its great news – but MSR: MORE SUBTLETY REQUIRED.
# These types of announcemenr's almost undermining MS GUO's achievement – which has been the result of many years hard work and success….by emblazoning her as the PC poster-child of GREYLOCK.
"We are thrilled to announce that Sarah Guo is now a general partner at Greylock. She is focused on helping entrepreneurs create and scale the next generation of important b2b companies. Today, we are at a time when every industry is facing digital and algorithmic disruption, infrastructure continues to undergo a massive architectural reorganization, and we are seeing a Cambrian explosion of business software. We believe Sarah's focus areas as an enterprise investor (applications, infrastructure, cybersecurity and digital health) will prove fertile ground".
IT JUST SHOULD BE MORE NATURAL.. I WAS RECOGNISED FOR HAVING OVER A THIRD FEMALE PRESENTERS AT MY BLOOMBERG EVENTS…EVERY YEAR..FROM 2012.. WITH NO GRAND DESIGN HERE… I WANTED THE BEST SPEAKERS AND BUSINESS PEOPLE..IT JUST SO HAPPENED ALOT OF THEM WERE WOMEN…. A FACET THAT HAS CONTINUE IN THE ADVISORY & NON ADVISORY WORK I DO NOW.
START-UP IN FOCUS: NAMELY
NAMELY: THE ONGOING TREND OF HUMAN RESOURCES PLAYERS NOT BEING TRUE TO THEIR WORD CONTINUES… AS THEY ARE NOT ETHICAL ADVOCATES…. with NAMELY the latest to fall foul of the DIVERSITY RULEBOOK, having to fire CEO Matt Straz, yesterday.
NAMELY's board reviewed unspecified "actions" by Straz, determined they were "inconsistent" with leadership standards at the firm and announced his immediate departure.
THEY COMMENT:
"The company is steadfast in its goal to model the best workplace practices, including demonstrating commitment to its values by taking decisive action if or when anyone, including its CEO, acts contrary to those values,"
# FORMER Jive Software CEO Elisa Steele will lead NAMELY's CEO Office on an interim basis until a replacement is found.
ITS A BIT ARBITRARY CALLING IT A START-UP:
# The New York-based company says it serves more than 1,000 clients and is on course to exceed more than $50m in annual recurring revenue.
# In March, it announced plans to open an operations hub employing 300 in Atlanta.
# Namely has raised more than $150m from investors including Sequoia Capital and Matrix Partners.
ANOTHER HR START-UP …..NOT SMOKING THE COOL AID / OR LIVING THE DREAM AGAIN.. FOLLOWS HIGH PROFILE DEPARTURES @ZENEFITS, SOFI & BETTERWORKS…POWER CORRUPTS !!!
TREND IN FOCUS: AD SPEND USA
STATISTA: PUBLISH AN INTERESTING REPORT HIGHLIGHTING HOW ADVERTISERS STILL SPEND A GOOD CHUNK OF REVENUE ON PRINT,,,AS IN THESE TIMES OF DATA CONCERNS & TRUST… CONSUMERS TRUST PRINT AGAIN & THEY ARE BECOMING MORE EFFECTIVE FOR ADVERTISERS AGAIN
# US Advertisers still spend the large majority of their $ television, mobile devices, and PC web browsers adverts
# These are modes or channels where consumer's spend most of their time.
HOWEVER …
# The medium that ranks fourth in terms of ad revenue in 2018 is print — good old fashioned newspapers, magazines.
# IN FACT…. print draws in almost as much ad revenue as the desktop web, but consumers spend only a fifth as much time with it.
CHART FOR THE STATO'S HERE: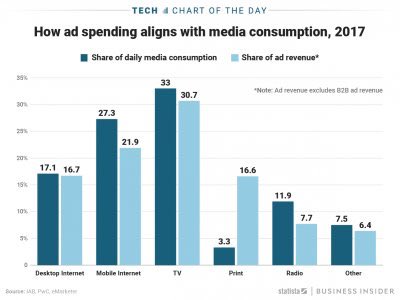 WHAT A VOLTE FACE… BUT LIKE MY FATHER SAYS IF ITS IN PRINT… ITS MORE LIKELY TO BE TRUE
ASIA:
HTC
HTC: INTRODUCE THE WORLD'S FIRST BLOCKCHAIN SMARTPHONE !! called the HTC Exodus
# Its similar in look and feel….. BUT is designed to support for BLOCKCHAIN-based distributed apps, and feature what the company describes as "built-in secure hardware"
# The announcement was BIG PICTURE HEAVY / DETAIL LIGHT... but one aspect emphasised was the PRIVACY advantages the phone will offer…
# USERS will have greater control over their data, without having to rely on the major technology companies for cloud storage.
Additionally...
# The phone will have its own crypto-currency wallet & act as a node for the bitcoin and ethereum blockchains — so that every phone increases the overall size and scope of the network.
PHIL CHEN RETURNS TO RUN THIS AFTER A BRIEF STINT AWAY IN THE LAND OF VC…..WATCH THIS SPACE
THOUGHTS OF THE DAY:
1. MENTAL HEALTH AWARENESS WEEK: HAVING BEEN AFFECTED BY THIS IN THE LAST 20 YEARS…I AM A BIG FAN OF SUPPORTING MENTAL HEALTH…
# THE GENTLEMAN, BEN BRABYN highlights how the CANARY WHARF GROUP & LEVEL 39 are lighting up the towers with the GREEN GLOW as a mark of support to recognise this illness – which still people (EMPLOYERS) look with misunderstanding & a massive sign of weakness.
1/4 PEOPLE IN THE UK ARE AFFECTED BY THIS – BRAVO CANARY WHARF
https://twitter.com/BenBrabyn/status/996426985244160000
2. WESTWORLD: I LOVE THIS PROGRAMME…& THIS ROBOTIC COMPANY SHOWS the show isn't far away from the reality.. as watch this amazing ENGINEERED ARTS PIECE:
https://twitter.com/iamchrisjlowe/status/996607327707922433
THIS MAN IS A ROBOT….

Lastly, thanks to Silicon Valley Bank for a great dinner last night in BRISTOL, where they brought together alot of the LOCAL TECH glitterati – and I enjoyed talking to Andrew @ Setsquared, Paul @ Death.io & Chris @ Hertzian…
Now off to HOST THE BOXARR BRISTOL TECH DAY.. thoughts to follow .. tomorrow / Friday .
CHRIS,
NOTWICS LTD
+44 7800 927865